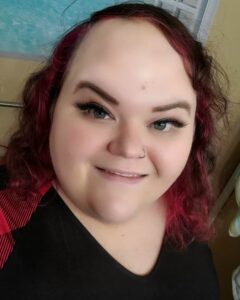 We welcome Chantal Winslow as the new Executive Assistant! She will work with Northern Spirit, Living Skies, and Prairie to Pine, as well as areas of work that include all three Regional Councils. Chantal will work closely with Executive Minister Shannon McCarthy, and will bring her skills of administration, communication, and planning to key work such as: the minutes for the three Regional Council Executives and the annual meetings; planning Shannon's schedule; communications and connecting work; and more.
In her own words, "I live in Crossfield, AB with my husband of 5 years and our fur babies: The Pasta Cats (Spaghetti, Fettucine and Penne) and our 10 month old puppy, Meatball.
I grew up in London, ON and originally went to school to be a legal assistant. I worked in personal injury law for 5 years. After I moved to Alberta, I found myself seeking something completely different to put my time and energy into. That is when I stumbled upon St. David's United Church.
I fell in love at my interview and the congregation, staff and community have become family to me over the last 6 years. Working at St. David's has allowed me to grow and learn so much. I am sad to be leaving my St. David's family but I am thrilled to be starting this journey with Shannon.
In my spare time I love to spend time with my family and friends. My passions are event planning, organization and facilitating connections within my community. I have founded and run a group in my small town based on forming friendships and connections. I also love to be creative. I am usually dabbling in a few different arts and crafts. Currently I have really been enjoying acrylic painting and ceramics."