November 11 is a day for all veterans, marking the moment when the World War I guns and slaughter in Europe finally stopped in 1918.
Tuesday November 8, 2022 is an additional day honouring Inuit, First Nations, and Métis veterans. Please read on for an invitation and links to learning the history.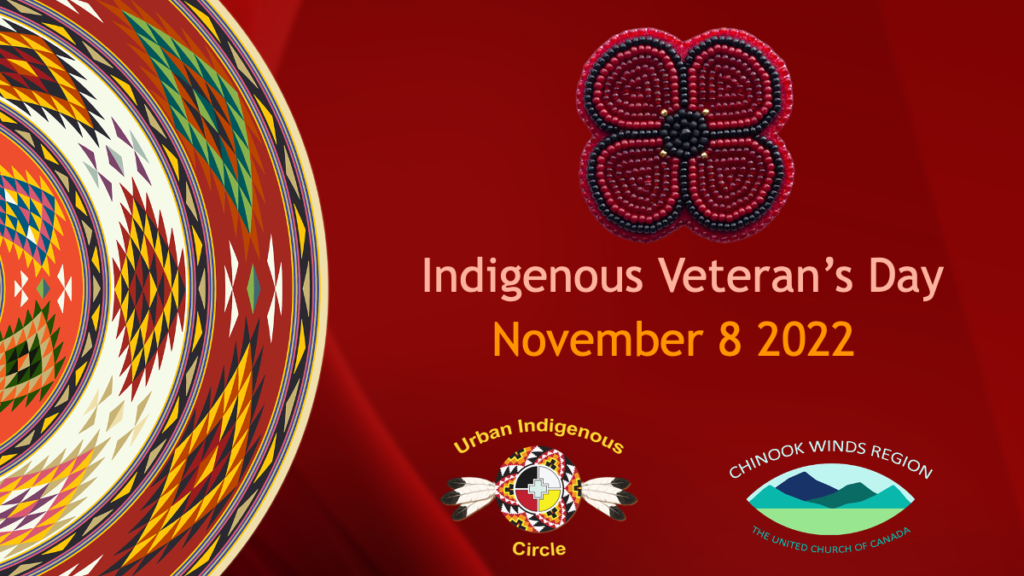 Gathering to remember and respect
You are invited to join Chinook Winds Indigenous Minister Rev. Tony Snow in a prayerful time at noon November 8, to remember and give thanks for the thousands of Indigenous veterans who fought to defend our country. To register, please click here.
Honouring the past, present, and future
For a deep dive into understanding the discrimination practiced against Indigenous veterans, and their long struggle for justice and equity, please see the House of Commons report Indigenous Veterans: From Memories of Injustice to Lasting Recognition.
In the words of the Keetaskeenow Tribal Council, "First Nations were exempt from conscription because they were not considered citizens of Canada (they were also unable to vote), but many along with Metis, Inuit and non-Status Indians despite the challenges they faced, including traveling long distances from remote communities to enlist, learning a new language (English), and coping with racism against them. They did not have the right to obtain other benefits available to non-Aboriginal Veterans due to the Indian Act restrictions. First Nation Veterans also lost their Indian Status by volunteering, which impacted their families as they all lost status also."
A school board resource from Ontario explains further, "During the First World War (1914-1918) First Nations, Inuit and Métis participation was proportionally higher than that of any other people in Canada, with one in three Indigenous males enlisting. Many Indigenous women also served as nurses treating the wounded, and Indigenous soldiers earned more than 50 decorations for bravery.
More than 500 Indigenous soldiers died in World Wars I and II. More than 12,000 First Nations (Status and Non-Status), along with a large number of Inuit and Métis, left their homes and families to serve Canada in those two conflicts.
Following World War II, some Indigenous veterans returned from war and had lost their 'status', as they had been absent from their reserves for more than four years. This was a provision of the Indian Act at the time. Indigenous veterans were enfranchised, their sacrifices largely forgotten while their rights and status as Indigenous Peoples were taken away."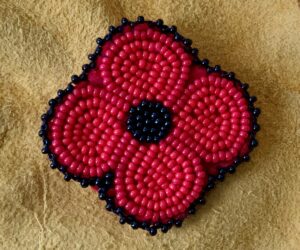 As long as the grass grows and the water flows,
and at the going down of the sun and in the morning,
we will remember them.