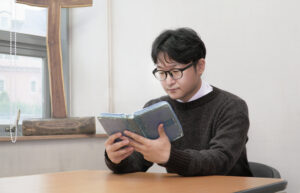 June is Pride Month, and your solidarity is invited.
In 2020, Rev. Lee Dong-hwan of the Korean Methodist Church accepted an invitation to bless the crowd at the Incheon Pride Festival. As a result, on October 15 2020, the church stripped of his ability to practice as a minister for two years. His appeal of that decision is finally being heard on 13 June, 2022. The United Church of Canada has many connections to Korea and to Korean Christians through our partner churches, and as part of that global family, our support is requested. This request follows a similar request for support sent out in 2020.
Action invitation
The appeal trial launched by Rev Lee and supporters begins June 13 2022 after many delays, and is expected to be a long and arduous journey. You are invited to send a letter of support to Rev. Lee as yourself, or your Affirming Ministry or supportive ministry. You could also take a photo of yourselves holding a message to Rev Lee, and identifying the name of your ministry. This will be of great comfort and support to Rev. Lee and the many who support him. Letters or e-cards can be sent to qnaoffice2021@gmail.com
Full background
This article gives full details and background. It notes, "When Pastor Lee Dong-hwan began to doubt his decision to give a blessing at the second Incheon Queer Culture Festival, his wife was the one who encouraged him to stand strong not only in the face of history, but also God.
On Aug. 31, 2019, Lee, who is part of the Korean Methodist Church, took to the stage of the queer festival, clad in a white robe to bless those in attendance, throwing flower petals and offering a prayer. Just three days afterward, he was required to attend a meeting at a gathering in Suwon, Gyeonggi, where his church is located.
On September 4 he was reported by the Incheon Pastor's Gathering for Healthy Society to the Gyeonggi Annual Conference for violating the Book of Doctrines and Discipline by advocating and agreeing with homosexuality."
In July 2020, Rev. Lee was summoned by the Korean Methodist Church officials to the trial for violating church doctrine (It states, "Violating laws regarding drugs and performing activities supporting or agreeing with gambling or homosexuality" are punishable). In October 2020, the first trial was held. Rev. Lee got a two-year suspension and fine. He refused to accept the result. In February 2021, March 2021, and January 2022, Rev. Lee's appeal tried to go ahead. The appeal was scheduled several times but didn't happen, because the Church officials didn't appear or would not go public, etc.
June 13, 2022 is the next appeal date. Rev. Lee has asked for solidarity actions. He believes that it's time for the Korean Methodist Church to install a committee for the affirming ministry, and he will stand with LGBTQ folks till the end.
Since his first trial, the movement against hate toward LGBTQ people has been growing. A Methodist group against hate and discrimination was launched in 2021. Rev. Lee has still been actively working with LGBTQ folks -just not in the church. The Queer Bible Commentary was translated and published in 2022, which is partly related to this Methodist group. You can learn more directly from Rev Lee, in this video interview by Vice Media-Asia.