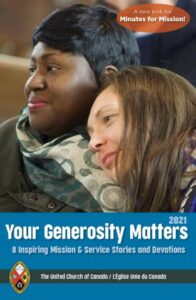 The national church is pleased to share with us the 2021 Minutes for Mission in three formats in addition to the basic print booklet, which has already been mailed to all congregations.
PDF booklet:  Click here. 
Videos: These are under their own playlist on the UCC's YouTube site; bookmark this! Use these freely in your online worship. Click here.
Online text and photos: COVID means that our Canadian and global partners' work is adapting quickly. In order to help us keep up to date, Mission and Service Minutes are also being offered online. Please find the text along with accompanying photos for use in your presentations or social media, at this link.
And finally, the national Stewardship newsletter comes out monthly and has lots of good updates. Sign up here.
Blessings on your stewardship work, especially at this difficult time. Our givings make a positive difference across Canada and around the world, including in our own communities. Our generosity matters! We hope these Minutes for Mission will help you and your ministry see the that difference.